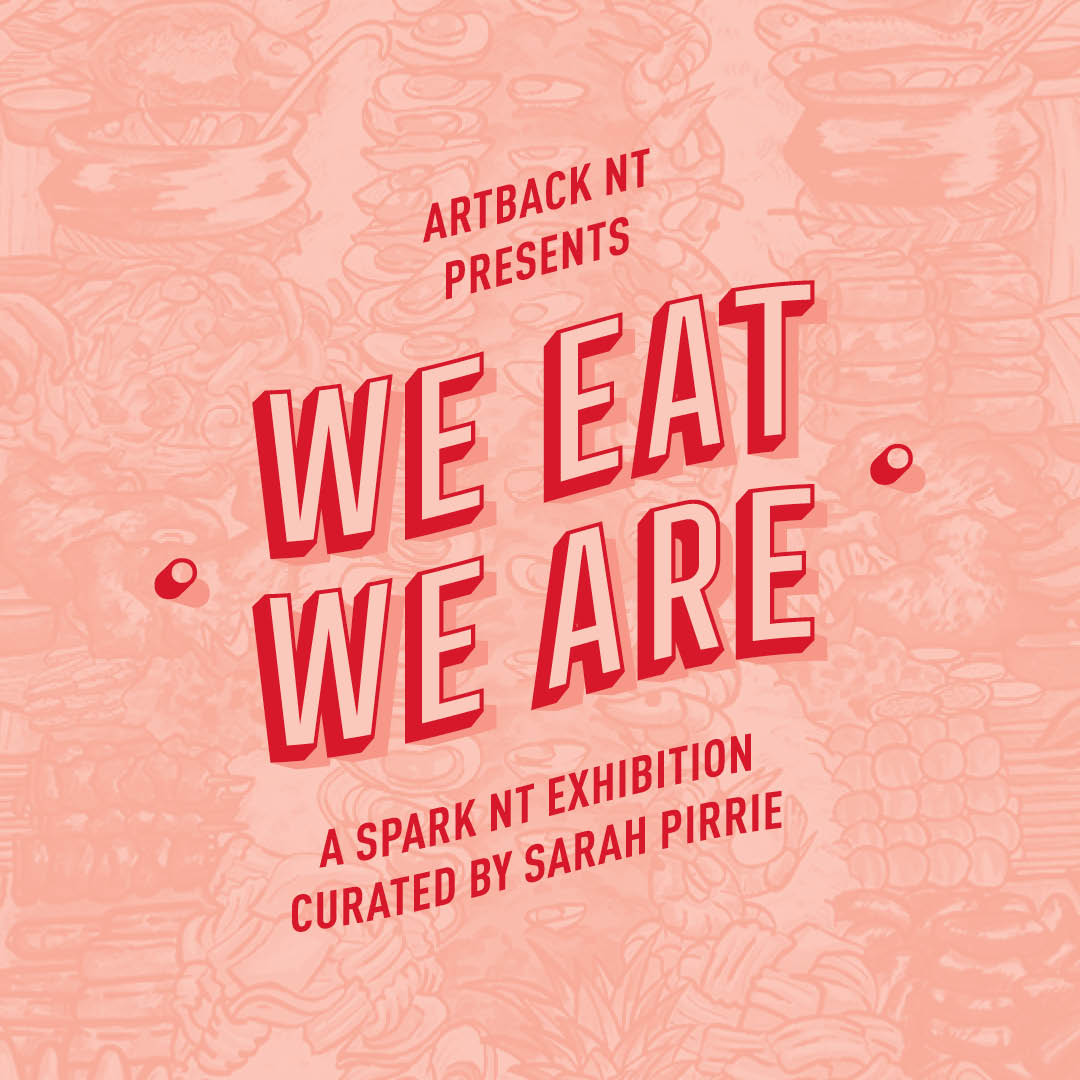 We Eat We Are celebrates food as a form of social sculpture that unites, nourishes and renews. The lives we live through food define our imaginary, making sense of our desires, ideals and practices as a society. Often hidden in plain sight, these are the spaces and time-valued traditions that gurgle in a pot or ripen in the sun. When we eat, we consume glocally: linking into the global and local food webs while revelling in our own sense of place.

Seasonal rhythms, generational knowledge and sensory memories flavour expectations of what it is to live in the Northern Territory. As we eat we embrace the unexpected and the familiar, and plot a vision for our future selves. Do we go out fishing or take a trip to the Woolies deli section? Eat salty plums made from time honoured Asian recipes or eat the wild harvested super food, Kakadu plum? Through our anticipation of taste, ingredients and availability, we creatively imagine and invest in our future identity and wellbeing.

The gastronomically attuned artists in this exhibition represent a cross-section of the Northern Territory's Top End society embracing cultural diversity and a multiplicity of practices. Reflecting geographical and historical influences from the southern belt of South East Asia to the land and sea country of Indigenous Australia, their personal and collective food journeys are the binding ingredients of We Eat We Are. The migration and translation of social and cultural identifiers associated with the meals we survive and thrive on inform an ever evolving recipe.
KATHERINE, NORTHERN TERRITORY
Start: 20 September 2019
End: 26 October 2019
ALICE SPRINGS, NORTHERN TERRITORY
Start: 13 March 2020
End: 26 April 2020
DARWIN, NORTHERN TERRITORY
Start: 1 May 2020
End: 31 May 2020
We Eat We Are

We Eat We Are is the second exhibition to be produced as part of the SPARK NT Curator Program, an Artback NT initiative which supports an independent or emerging curator, residing in the Northern Territory, to develop an exhibition project for tour. SPARK NT is designed to foster critical thinking in art and curatorial practice and provide artists from the Territory with opportunities to showcase their work within a curated touring exhibition.

Artists and Art Porjects included in this exhibition

Kaye Brown,
Raelene Lampuwatu Kerinauia,
Jamice Pungautiji Murray
Michelle Woody
Christine Barzaga,
Siying Zhou,
Bao Vi Truong,
Mulkuṉ Wirrpanda,
Emma Lupin
Temporary Territory team